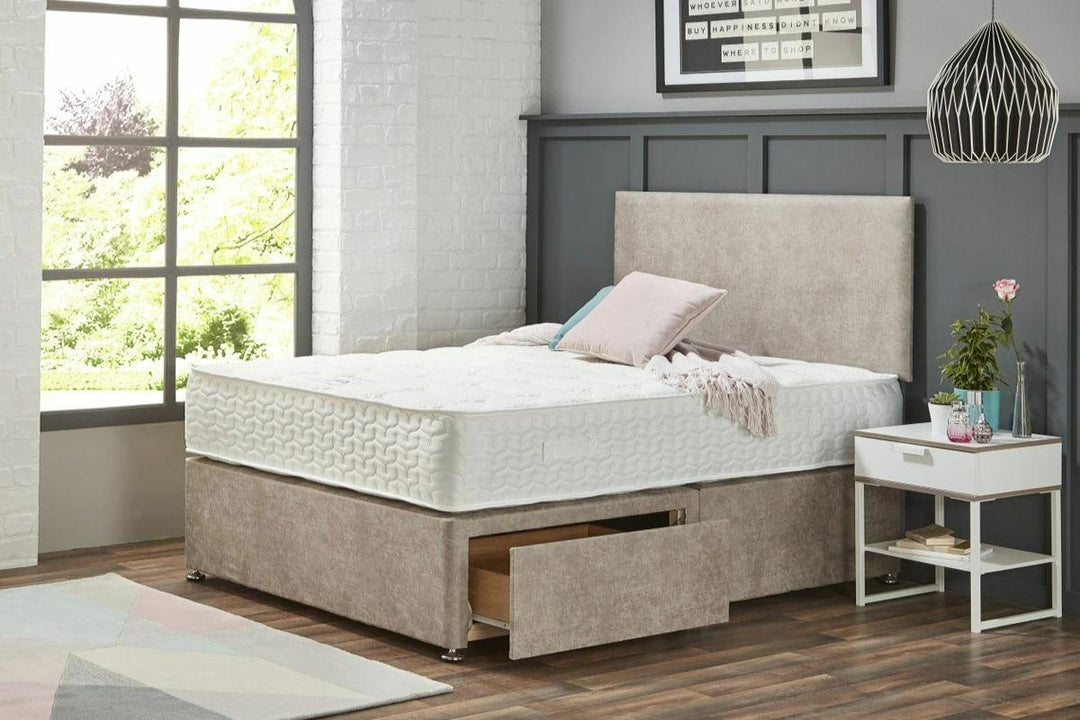 Healthopaedic More Support Mattress
---
In stock, ready to ship

Inventory on the way
Enhanced Support and Comfort with the Healthopaedic More Support Mattress
Introducing the Healthopaedic More Support Mattress, a bed designed to provide you with an exceptional level of support and comfort. Let's explore the key features that make it stand out:
Orthopaedic Spring Unit: At the core of the Healthopaedic More Support Mattress is an orthopaedic spring unit, meticulously engineered to deliver unparalleled support for your body. This spring unit promotes proper spinal alignment during sleep, contributing to your long-term back health.
High-Density Foam Comfort Layer: Complementing the spring unit is a high-density foam comfort layer. This layer adds a touch of plushness to the firm support, ensuring a harmonious and comfortable sleeping experience.
White Fibre Filling: The mattress is generously filled with high-quality white fibre, enhancing its overall comfort and coziness. This filling material ensures that you enjoy a restful and relaxing night's sleep.
Insulator for Durability: To guarantee the longevity of the mattress, an insulator layer is thoughtfully integrated. This layer prevents the shifting of materials over time, ensuring that the mattress maintains its exceptional quality.
Micro-Quilted Double-Sided Design: The Healthopaedic More Support Mattress is micro-quilted on both sides, a testament to its durability. This meticulous craftsmanship secures the fillings in place and helps the mattress maintain its shape over time. The double-sided design allows you to flip the mattress periodically, ensuring even wear and extending its longevity.
Firm Tension: Boasting a firm tension, this mattress is ideal for individuals who prefer strong support while they sleep. It offers the perfect balance between support and comfort.
In conclusion, the Healthopaedic More Support Mattress is the perfect choice for those seeking enhanced support and restful sleep. With its orthopaedic spring unit, high-density foam, white fibre filling, insulator, and firm tension, it ensures an uninterrupted and rejuvenating night's sleep. Don't wait any longer—acquire the Healthopaedic More Support Mattress today and experience the exceptional level of support and comfort it offers.
At British Bed Store, we are dedicated to delivering your perfect bed with the utmost care and efficiency. Enjoy the convenience of our complimentary delivery service, available across the UK!
Standard Delivery:
For bespoke and TV beds, please allow up to 2 weeks for delivery.
For all other beds, expect delivery within 7-10 days.
Our in-house delivery team, utilizing our own vans, ensures a seamless and secure delivery process. Rest assured, your comfort is our top priority.
Should you have specific delivery preferences or any inquiries, our friendly customer service team is here to assist you.
Thank you for choosing British Bed Store. We are committed to ensuring your sleep experience is exceptional, from selection to timely and free delivery across the UK.