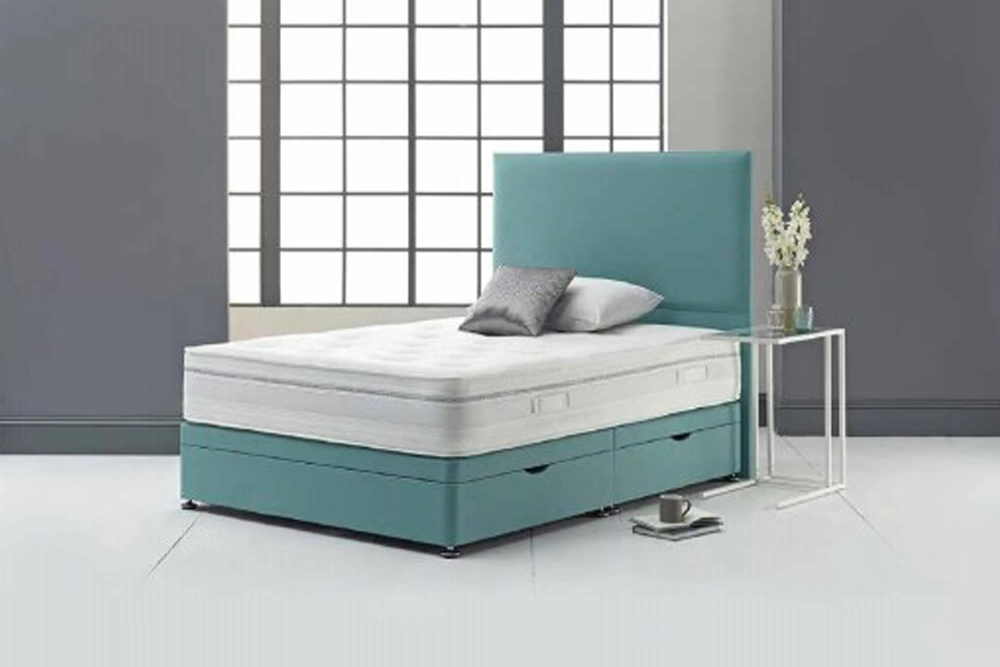 Healthopaedic Amira Memory Mattress
Regular price
£449.99
/
Tax included.
Shipping
calculated at checkout.
---
Low stock - 14 items left

Inventory on the way
The Orthopaedic spring unit with Memory foam is designed to provide the ultimate combination of support and comfort for a rejuvenating night's sleep. This premium mattress features a state-of-the-art orthopaedic spring system that promotes optimal spinal alignment, ensuring that you wake up feeling refreshed and pain-free.
The top layer is composed of high-quality memory foam, which contours to your body's shape, relieving pressure points and cradling you in luxurious comfort. This memory foam layer adapts to your unique body contours, providing personalized support while you sleep, promoting a restful and undisturbed slumber.
For added plushness and softness, the mattress is filled with premium white fibre, creating a cloud-like sensation that gently embraces you. This luxurious filling material enhances the overall cosiness of the mattress, making it a perfect choice for those seeking a plush and comfortable sleeping surface.
To ensure temperature regulation and breathability, the mattress is equipped with a black woven border that facilitates air circulation throughout the night. This black woven border not only enhances the aesthetics of the mattress but also plays a crucial role in maintaining a comfortable sleep environment by dissipating excess heat and moisture.
The hand-tufted, one-sided design of the mattress adds durability and stability, preventing the shifting of materials over time. This meticulous craftsmanship ensures that the mattress maintains its shape and support for years to come.
Incorporating an insulator layer, this mattress prevents the transfer of motion and minimizes disturbances caused by movements on one side of the bed. This means that you and your partner can sleep peacefully, undisturbed by each other's nocturnal activities.
The Healthopaedic 3D technology, incorporated into this mattress, takes sleep comfort to the next level. The 3D design enhances breathability, support, and pressure relief, ensuring you get the quality of sleep your body needs for optimal rest and rejuvenation.
In summary, this Orthopaedic spring unit with Memory foam, white fibre filling, insulator, Healthopaedic 3D, and black woven border for air circulation, hand-tufted one-sided mattress combines cutting-edge technology, luxurious materials, and expert craftsmanship to offer you a sleep experience like no other. It's a mattress that prioritizes your comfort, support, and overall well-being, ensuring that you wake up each morning feeling revitalized and ready to conquer the day.
At British Bed Store, we are dedicated to delivering your perfect bed with the utmost care and efficiency. Enjoy the convenience of our complimentary delivery service, available across the UK!
Standard Delivery:
For bespoke and TV beds, please allow up to 2 weeks for delivery.
For all other beds, expect delivery within 7-10 days.
Our in-house delivery team, utilizing our own vans, ensures a seamless and secure delivery process. Rest assured, your comfort is our top priority.
Should you have specific delivery preferences or any inquiries, our friendly customer service team is here to assist you.
Thank you for choosing British Bed Store. We are committed to ensuring your sleep experience is exceptional, from selection to timely and free delivery across the UK.