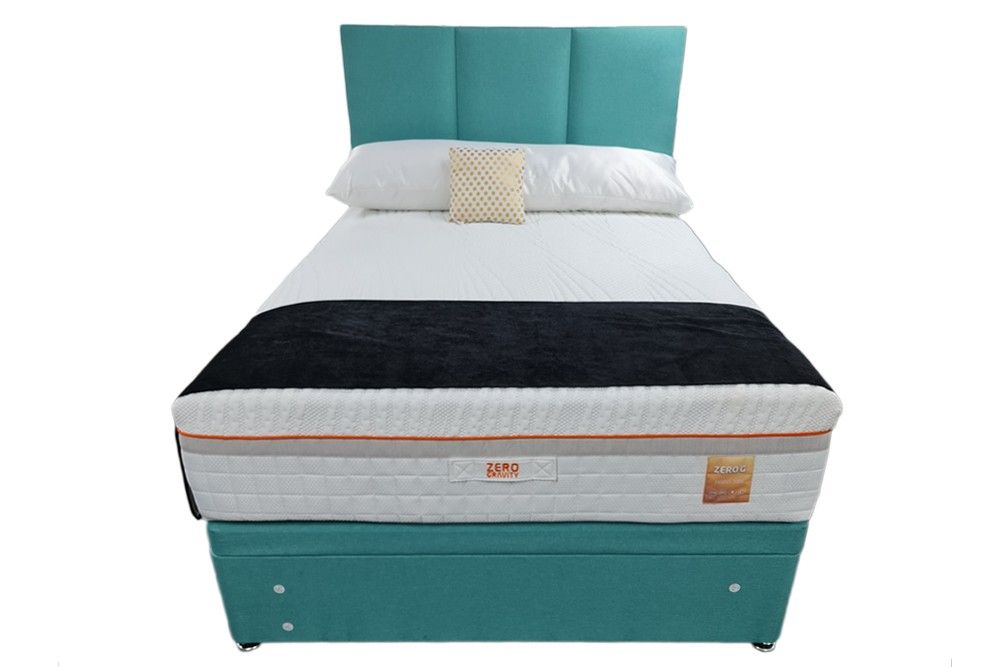 Healthopaedic Taurus 3000 Mattress
---
In stock, ready to ship

Inventory on the way
Experience Unprecedented Comfort and Support with the Healthopaedic Taurus 3000 Mattress
Introducing the Healthopaedic Taurus 3000 Mattress, a premium sleep solution meticulously designed to provide you with ultimate comfort and support. This mattress incorporates innovative features and luxurious materials to deliver an exceptional sleep experience. Let's explore the standout features that make the Taurus 3000 Mattress an outstanding choice:
Advanced Pocket Spring System: The Taurus 3000 mattress combines a 1000 pocket spring unit with an additional 2000 tablet pocket spring unit, resulting in a total of 3000 individually wrapped springs. These pocket springs work in harmony to offer exceptional support while minimizing motion transfer, ensuring your sleep remains peaceful and undisturbed. Each spring responds independently to the contours of your body, delivering personalized support where you need it most.
Zero Gravity® Technology: One of the key highlights of the Taurus 3000 Mattress is its groundbreaking Zero Gravity® Technology. This advanced innovation creates a sensation of weightlessness, as if you're floating on air. It allows the mattress to adapt to your body's shape, evenly distributing your weight and relieving pressure points. The outcome is a reduction in tossing and turning during the night, resulting in a deeper and more restorative sleep.
Handmade Precision: Crafted with precision and care, the Taurus 3000 mattress is meticulously handmade to ensure top-notch quality and durability. This commitment to craftsmanship guarantees that you're investing in a mattress that's built to last.
Luxurious Zip Cover: The mattress is encased in a luxurious zip cover, providing convenience for easy maintenance and cleaning. This feature adds to the overall user-friendliness of the mattress.
Personalized Comfort: The Taurus 3000 mattress is designed to provide an indulgent sleep experience. Its plush and comfortable feel allows you to sink into the mattress, enveloping your body in softness. The combination of pocket springs and Zero Gravity® Technology creates a supportive and cradling effect, promoting proper spinal alignment and reducing discomfort.
Adaptable for All Sleep Positions: Whether you're a back, side, or stomach sleeper, the Taurus 3000 mattress will adapt to your sleeping position and provide the necessary support for a peaceful sleep. Its high-density foam layers add extra cushioning and enhance the overall comfort level of the mattress.
Investing in the Taurus 3000 mattress means investing in your sleep quality and overall well-being. Experience the luxury and exceptional support this mattress provides, as it improves your sleep quality and helps you wake up refreshed and energized.
With its premium construction and advanced features, the Taurus 3000 mattress is a true testament to craftsmanship and a commitment to quality. Discover the joy of a restful sleep with this exceptional mattress that combines comfort, support, and durability in one perfect package. Experience the difference with the Taurus 3000 mattress and transform your sleep into a truly rejuvenating experience.
At British Bed Store, we are dedicated to delivering your perfect bed with the utmost care and efficiency. Enjoy the convenience of our complimentary delivery service, available across the UK!
Standard Delivery:
For bespoke and TV beds, please allow up to 2 weeks for delivery.
For all other beds, expect delivery within 7-10 days.
Our in-house delivery team, utilizing our own vans, ensures a seamless and secure delivery process. Rest assured, your comfort is our top priority.
Should you have specific delivery preferences or any inquiries, our friendly customer service team is here to assist you.
Thank you for choosing British Bed Store. We are committed to ensuring your sleep experience is exceptional, from selection to timely and free delivery across the UK.