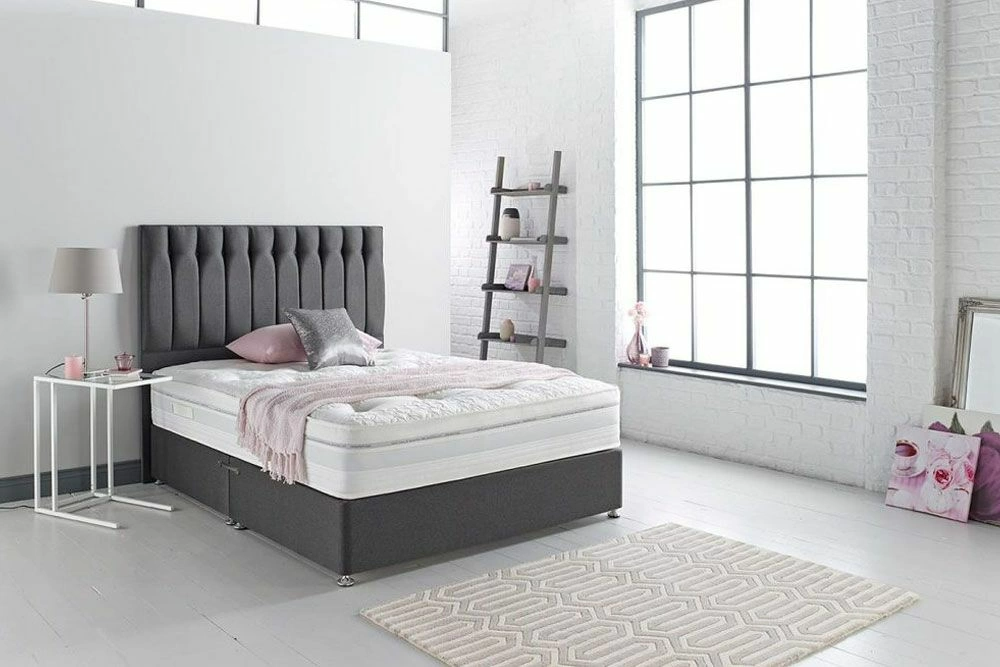 Healthopaedic Tencel 2000 Mattress
---
In stock, ready to ship

Inventory on the way
Elevate Your Sleep Experience with the Healthopaedic Tencel 2000 Mattress
Introducing the Healthopaedic Tencel 2000 Mattress, a superior sleeping solution that promises to enhance your sleep quality with its exceptional features. Let's delve into the key attributes that make this mattress truly exceptional:
Tencel Fabric: The Healthopaedic Tencel 2000 Mattress features Tencel fabric, a manmade fiber derived from natural sources such as wood. Known for its efficient moisture absorption, Tencel contributes to a dry and comfortable sleeping environment.
Premium Encapsulation: This mattress is encapsulated with a high-density foam border, which surrounds the pocket spring unit. This not only enhances the overall support but also boosts the mattress's durability, ensuring it maintains its shape and quality over time.
Expert Side-Stitching: With a side-stitched border, the mattress gains additional durability and edge-to-edge support. This meticulous stitching prevents sagging and ensures consistent support throughout the mattress surface.
Convenient No-Turn Design: The Healthopaedic Tencel 2000 Mattress is designed with your convenience in mind. It's a no-turn mattress, eliminating the need for regular flipping. Simply rotating it periodically is all that's required to maintain its quality and longevity.
Innovative Zero Gravity Foam (Pressure Sense Foam): The mattress incorporates Zero Gravity Foam, also known as Pressure Sense Foam. This remarkable foam conforms to your body's contours, evenly distributing your weight and reducing pressure points. The result is a weightless sensation that promotes a deeper and more restful sleep.
Natural Cooling and Excellent Moisture Management: The Tencel fabric aids in natural cooling, contributing to an optimal sleep temperature. Furthermore, the mattress excels in moisture management, efficiently absorbing excess moisture for a dry and comfortable sleeping surface.
Minimized Bacterial Growth: The Healthopaedic Tencel 2000 Mattress is meticulously crafted to reduce bacterial growth, creating a hygienic and health-conscious sleep environment.
In summary, the Healthopaedic Tencel 2000 Mattress is a top-tier choice for those who seek superior comfort and support. With its Tencel fabric, premium encapsulation, side-stitched border, no-turn design, Zero Gravity Foam, and outstanding moisture management, it ensures a night of revitalizing and refreshing sleep. Invest in the Healthopaedic Tencel 2000 Mattress and elevate your sleep experience with a perfect combination of natural comfort and innovative design.
At British Bed Store, we are dedicated to delivering your perfect bed with the utmost care and efficiency. Enjoy the convenience of our complimentary delivery service, available across the UK!
Standard Delivery:
For bespoke and TV beds, please allow up to 2 weeks for delivery.
For all other beds, expect delivery within 7-10 days.
Our in-house delivery team, utilizing our own vans, ensures a seamless and secure delivery process. Rest assured, your comfort is our top priority.
Should you have specific delivery preferences or any inquiries, our friendly customer service team is here to assist you.
Thank you for choosing British Bed Store. We are committed to ensuring your sleep experience is exceptional, from selection to timely and free delivery across the UK.