Creating a Luxurious Bedroom Retreat: High-end Bedding Options and Premium Mattresses for Your Renovation Project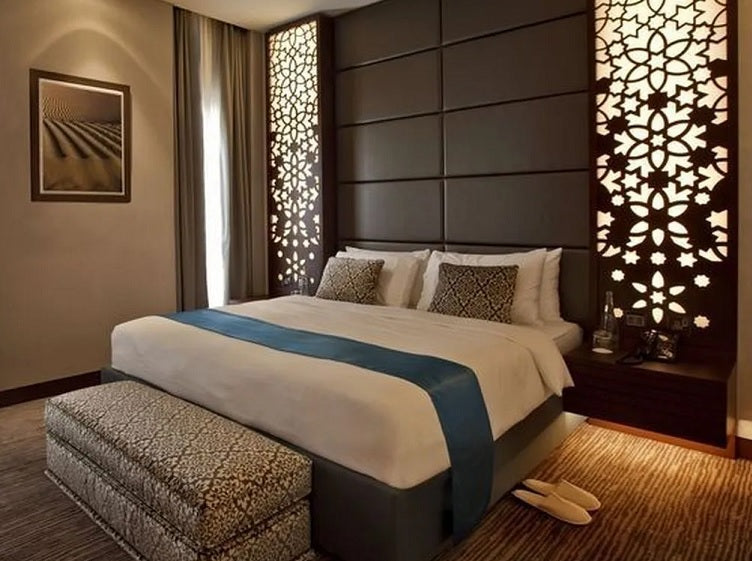 Introduction: Unwind and Recharge in Style
Transforming your bedroom into a sanctuary of relaxation and indulgence is the ultimate goal for many homeowners embarking on a renovation project. By selecting high-end bedding options, premium mattresses, and carefully curated accessories, you can create an opulent atmosphere that will leave you feeling like royalty every time you retreat to your private oasis. In this comprehensive blog post, we delve into luxurious bedding options, our top-of-the-line beds and mattresses, and accessories to elevate your bedroom renovation project and help you craft the perfect upscale ambiance.
The Foundation: Quality Bedding Materials
The first step in creating a luxurious bedroom retreat is choosing the right materials for your bedding. High-quality fabrics not only feel amazing against your skin but also contribute to the overall aesthetic of your space. Consider the following options:
 a) Egyptian Cotton: Known for its exceptional softness and durability, Egyptian cotton sheets are synonymous with luxury. With a high thread count and a silky-smooth finish, they offer a lavish sleep experience. To make the most of your Egyptian cotton bedding, look for options with a thread count of 600 or higher and choose colours that complement your bedroom's décor.
 b) Linen: Made from the flax plant, linen sheets are a natural, eco-friendly option. While slightly coarser than cotton, they are breathable, absorbent, and become softer over time, making them perfect for creating a relaxed yet sophisticated bedroom environment. Linen bedding is available in various colours and patterns, allowing you to find the perfect match for your bedroom's aesthetic.
c) Silk: For the ultimate indulgence, silk sheets are the epitome of opulence. Their natural temperature-regulating properties keep you cool in the summer and warm in the winter, while their hypoallergenic nature is gentle on sensitive skin. Silk bedding may be more expensive than other options, but the benefits and luxury they provide are well worth the investment.
Table 1: Bedding Material Comparison
| | |
| --- | --- |
| Material | Benefits |
| Egyptian Cotton | Exceptional softness, high thread count, silky-smooth finish, luxurious sleep experience |
| Linen | Natural, eco-friendly, breathable, absorbent, softens over time, relaxed yet sophisticated feel |
| Silk | Ultimate indulgence, temperature-regulating, hypoallergenic, gentle on sensitive skin |
The Heart of Your Retreat: Premium Beds and Mattresses
A truly luxurious bedroom retreat is incomplete without a high-quality bed and mattress. Our collection of beds and mattresses ensures an unparalleled sleep experience, providing comfort, support, and style. Consider the following options:
a)
Memory Foam Mattresses
: Memory foam mattresses contour to your body, providing personalized support and pressure relief. They are perfect for those who crave a plush, enveloping feel and are available in various firmness levels to suit your preferences. Our memory foam mattresses also include options with cooling gel technology, ensuring a comfortable sleep even on the warmest nights.
b) Latex Mattresses: Latex mattresses offer a unique combination of support and comfort. They are naturally hypoallergenic, breathable, and durable, making them an excellent choice for those seeking a long-lasting, eco-friendly mattress option. Our latex mattresses come in different firmness levels and thicknesses, allowing you to find the perfect fit for your sleep preferences.
 c) Hybrid Mattresses: Combining the best of both worlds, hybrid mattresses feature a combination of innerspring and foam layers, providing exceptional support and pressure relief. These mattresses are ideal for those who prefer a more traditional feel but still want the benefits of modern materials. Our hybrid mattresses come in a range of sizes and firmness levels, catering to a variety of sleep styles.
d) Adjustable Beds: For the ultimate in customization and comfort, consider an adjustable bed. These beds allow you to elevate your head, feet, or both, ensuring personalized comfort and support for a truly luxurious sleep experience. Adjustable beds are also an excellent choice for those with sleep apnea, acid reflux, or other health conditions that require specific sleeping positions.
Table 2: Mattress Type Comparison
| | |
| --- | --- |
| Mattress Type | Benefits |
| Memory Foam | Contours to the body, personalized support, pressure relief, available in various firmness levels |
| Latex | Unique support and comfort, hypoallergenic, breathable, durable, eco-friendly, various firmness levels |
| Hybrid | Combination of innerspring and foam, exceptional support, pressure relief, traditional feel with modern benefits |
Bed Frames and Headboards: Elevate Your Sleep Space
The right bed frame and headboard can make a significant impact on the overall appearance of your bedroom retreat. Select a bed frame and headboard that not only offer stability and support but also add an element of style and sophistication to your space. Consider the following options:
a) Upholstered Bed Frames and Headboards: Upholstered bed frames and headboards bring a sense of warmth and elegance to your bedroom. Available in various fabrics, colours, and designs, you can find the perfect upholstered option to match your personal style and bedroom décor.
b) Wooden Bed Frames and Headboards: Wooden bed frames and headboards offer a timeless, classic appeal. With options ranging from traditional to modern designs, you can choose a wooden frame that complements your bedroom's aesthetic while providing a sturdy and durable foundation for your mattress.
 c) Metal Bed Frames and Headboards: For a sleek, contemporary look, consider a metal bed frame and headboard. These options provide a minimalist yet striking appearance, with various finishes and designs to choose from.
Layer It Up: Bedding Ensembles and Sets
An essential aspect of crafting a high-end bedroom ambiance is layering your bedding. By mixing and matching various textures and patterns, you can create a visually rich and inviting sleep space. Consider investing in a luxurious bedding ensemble or set that includes the following elements:
a) Duvet Cover: A high-quality duvet cover is key to creating a lavish bedroom retreat. Choose a cover made from premium materials like Egyptian cotton, linen, or silk, and opt for a design that complements your bedroom's colour scheme and style.
 b) Pillowcases and Shams: Complete your bedding ensemble with coordinating pillowcases and shams. These additions not only enhance the overall appearance of your bed but also provide additional comfort and support for your head and neck.
c) Bed Skirts and Valances: Add a touch of sophistication to your bedroom retreat with a bed skirt or valance. These decorative elements help conceal the area beneath your bed, creating a clean and polished look.
d) Throws and Blankets: Layering throws and blankets on your bed not only adds visual interest but also provides extra warmth and comfort on cooler nights. Choose options made from luxurious materials such as cashmere, faux fur, or chunky knit wool for a cosy and opulent feel.
Accessorise for Added Luxury
To truly create an upscale bedroom ambiance, consider incorporating carefully chosen accessories that enhance the overall look and feel of your space. Some suggestions include:
a) Decorative Pillows: Add a touch of elegance and sophistication with decorative pillows. Available in various shapes, sizes, and designs, these accents can be the perfect finishing touch to your luxurious bedroom retreat.
b) Lighting: The right lighting can set the mood and create a warm and inviting atmosphere in your bedroom. Consider options such as chandeliers, pendant lights, or wall sconces for a touch of glamour.
c) Rugs: A plush rug underfoot can add an element of warmth and comfort to your bedroom. Opt for high-quality materials like silk, wool, or faux fur for a truly luxurious feel.
d) Artwork and Mirrors: Adorn your walls with eye-catching artwork and mirrors that reflect your personal style and enhance the overall aesthetic of your bedroom retreat.
Trust the British Bed Store for Your Renovation Needs
As you embark on your journey to create the ultimate luxurious bedroom retreat, the British Bed Store is here to support you every step of the way. With our extensive range of premium beds, mattresses, and accessories, we cater to the needs of homeowners who are looking to elevate their bedroom spaces through renovation.
Our commitment to quality ensures that we offer only the best products to our customers. We carefully source our beds and mattresses from reputable manufacturers, ensuring that you receive a product that not only meets but exceeds your expectations. Our collection includes a wide variety of designs, styles, and materials, allowing you to find the perfect match for your unique taste and requirements.
At the British Bed Store, we understand that renovating a bedroom can be an overwhelming process. Our team of experienced professionals is dedicated to providing exceptional customer service, offering expert advice and guidance to help you make informed decisions. We take pride in our ability to assist you in selecting the right bed and mattress for your needs, ensuring a comfortable and rejuvenating sleep experience that aligns with your vision of a luxurious bedroom retreat.
When you choose the British Bed Store, you are not only investing in high-quality products but also partnering with a company that genuinely cares about your satisfaction. We strive to make the process of renovating your bedroom as seamless and enjoyable as possible, allowing you to focus on crafting the luxurious retreat of your dreams. Trust the British Bed Store for all your renovation needs and experience the difference that our dedication to quality, style, and customer service can make in your home.
---